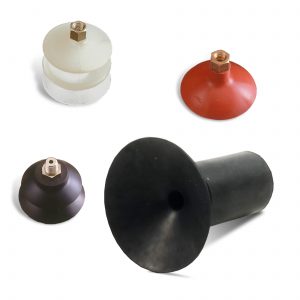 They are used for the object handling.
Vacuum suction cups: vacuum driven that when it ceases, the suction cup is released from the object. The product range includes suction cups that adhere to curved surfaces; suction cups with internal and external threading; 2 and 3 bellows suction cups and plate suction cups.
Pressure suction cups: these suction cups only need to be compressed against the surface to be bonded. By means of an impulse of compressed air on the metallic ball, a rapid detachment of the object is obtained. Also do not require additional fastening elements, a clamp is enough. If the ball is removed, they can be used as vacuum cups.
The selection of the suction cup is made taking into account the necessary binding force between the suction cup and the object to be moved. The magnitude of the force depends on:
Surface of the suction cup; the greater the surface, the greater the force.
Vacuum level; the higher the level of vacuum, the greater the force.
Surface finish of the piece.
Porosity of the material.
The suction cups can be manufactured in the most common elastomers such as NBR, NR; AU; FPM; VMQ and CR, among other materials.
Customized solutions. Please, discuss your requirements with our team.