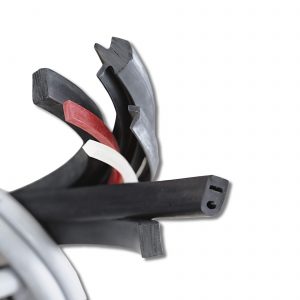 Transformation by extrusion of elastomers, especially silicones, in a wide variety of ways responding to the demands of the process industry. The profiles are often used as reinforcement elements, protection in corners and as sealing elements in the construction of machinery.
Materials available: NBR; EPDM; SBR; H-NBR; CR; VMQ and FPM. Also cellular and spongy materials such as CR, NBR, EPDM or VMQ.
On request, we can develop more specific profiles as well as other formulations of the elastomer of interest.
We are supported by reliable manufacturers with proven quality and experience over many years of mutual collaboration; we also check in our quality control laboratory compliance with the specifications of our designs.
Customized solutions. Please, discuss your requirements with our team.