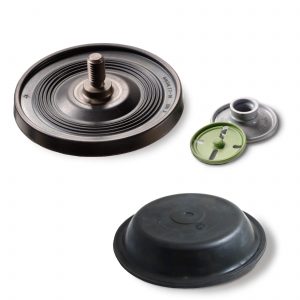 Long-stroke rolling diaphragms. They are characterized by being very thin walls and elastic materials with or without fabric reinforcement on the opposite side to the action of the pressure.
They are used in hydraulic and pneumatic control and regulation devices, circuit breakers, pressure multipliers and measuring devices.
Membranes without reinforcing fabric are usually used as a separation element in pressure compensators or as a precision adjustment in pressure gas regulators.
The standard material is NBR although, on request, they can be manufactured in VMQ, FPM and EPM with / without fabric. Alternatively, the reinforcing fabric elastomer sheet can be acquired to die-cut membranes and subsequently form the fold and shape of the membrane.
Customized solutions. Please, discuss your requirements with our team.