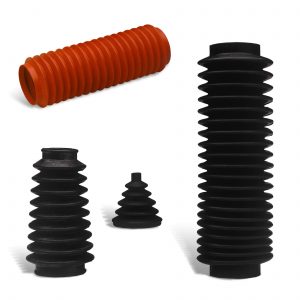 Spindles, shafts, transmissions, print heads, linear guides and rods among other components with cyclical axial movements and subjected to a dirty environment, splashes, dust etc. they must be protected to avoid incidents. The bellows perform this function and can be cylindrical, rectangular, conical, hexagonal, square etc.
The bellows are formed by an extensible part and two connection ports. The moving part can be cylindrical, conical or domed. The connection ports can be designed in various ways, the most common being flat flanges and cylindrical sleeves, depending on the design of the bellows fastening to the equipment.
The construction designs are CR, NBR, PVC; PVC-FCO; VMQ; polyester; leather, translucent polyurethane, DuPont™ Kevlar® and DuPont™ Nomex®, among other materials.
In addition to a wide range of bellows manufactured by molding and injection, for short series we have the capacity to manufacture bellows by rotomolding and by heat sealing.
We advise the Client on the bellows that best suits the application, including customized solutions.
Please, discuss your requirements with our team.
DuPont™, Kevlar® y Nomex® are trademarks and registered trademarks of E.I. du Pont de Nemours and Company.