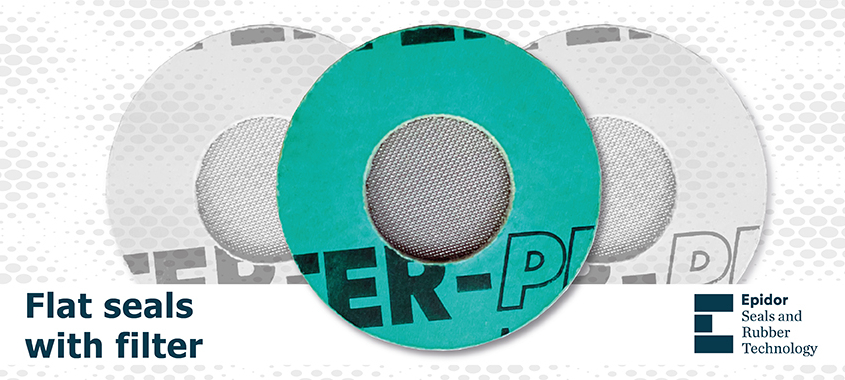 From our facilities in Barcelona we design and manufacture different sealing solutions. This allows us to be more decisive and agile and to respond in a personalized way to the needs of our customers.
We have recently added the manufacture of flat seals with filter to our catalogue. With this new service we are expanding our range of industrial solutions for MRO and OEM customers.
When and where to install a flat seal with filter mesh
After a maintenance shutdown or during the start-up operations of a new plant, foreign bodies may eventually be found in the pipes that could cause damage to the installation and delay the planned production rates. To prevent this situation, Epidor SRT offers a new product of its own manufacture, the flat gasket with incorporated filter mesh.
This preventive solution, especially designed for industrial maintenance, can also be implemented on equipment that includes simple filtration operations.
How to install a flat gasket with filter
It is important to emphasise that the working conditions of flat gaskets are not applicable to the flat gasket with filter, the use of the latter should be understood as exclusively temporary.
The flat gasket with filter mesh should be installed in those pipes where maintenance actions are to be carried out. This will allow the retention of foreign bodies while avoiding unnecessary repair costs in the accessories installed downstream, such as flow meters, valves, sensors or pressure gauges, among others.
We recommend replacing the flat gasket with temporary filter with the corresponding flat gasket before the end of commissioning and when no more foreign bodies are retained in the system of interest.
Machine manufacturers can also use this solution as a safety feature in equipment to prevent foreign bodies from entering usually clean fluids. However, it cannot be considered as a continuous filtration solution due to the limited contact surface.
How Epidor SRT filter gaskets are made
Fabrication consists of bonding the AISI 304 60 Mesh stainless steel filter mesh to two sheets of flat gasket material and cutting to size to customer specifications.
The standard seal material is Gloster-Press® G, a fibre and NBR component which is widely used in sealing. Depending on requirements, we also manufacture flat seals with filter on the basis of other compressed fibres and different Mesh numbers.
Once the new flat gasket plate with filter is available, it is cut to DIN, ASME, EN 1514-1, etc. standards for standardised gaskets, or it can be cut to other geometries. The resulting thickness of the flat gasket with filter is 3.0 mm.
To find out more about our new service for the manufacture of flat gaskets with built-in filter mesh, we invite you to contact our technical support team.
https://epidor-srt.com/wp-content/uploads/2022/03/SRT_EN_202203_Flat_Gaskets_Strainer_BLOG_EXTERIOR-865x380px.jpg
380
865
Projecte Digital
https://epidor-srt.com/wp-content/uploads/2020/11/Epidor-Seals-and-Rubbe-Technology-logo-room-1-300x138.png
Projecte Digital
2022-03-24 09:34:58
2022-03-30 09:35:32
We manufacture flat gaskets with built-in filter mesh